About Aleris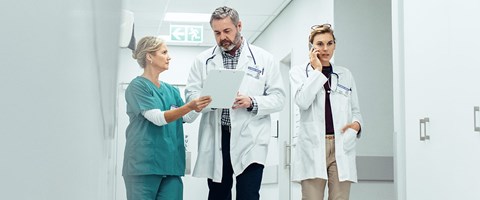 With seven private hospitals nationwide, Aleris Hospitals is the largest supplier of private healthcare in Denmark and part of the Aleris Group, which is one of Scandinavia's leading private healthcare companies.
Aleris provides healthcare and diagnostic services in Sweden, Norway and Denmark. Aleris has approximately 4,500 employees across more than 100 locations and has an annual revenue of SEK 5.8 billion. Aleris is owned by Patricia Industries, which is part of Investor.
Our values
Aleris' business model is to enable people to live a better, healthier life and we will benefit society by creating innovative solutions. Caring, professionalism, engagement and innovation are the basis of the ethical guidelines that guide us in our daily work.
Your health is our concern
At Aleris Hospitals you will receive professional help. Our hospitals are staffed by some of the country's leading specialists. We o­ffer diagnosis and treatment in almost any area. Our team of skilled doctors works closely together in order to find the best treatment for you.
Patient's needs ­first
At Aleris Hospitals our team of medical experts takes the time to listen and understand your health issues and concerns. You receive thorough medical tests and physician consultations in just a few days. This means a diagnosis comes fast, and treatments – including surgery – can be scheduled quickly. We take care of you during the entire course of treatment.